Nearby Attractions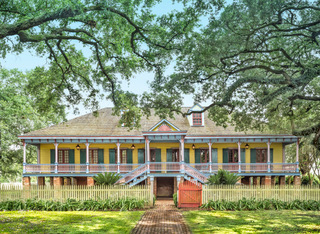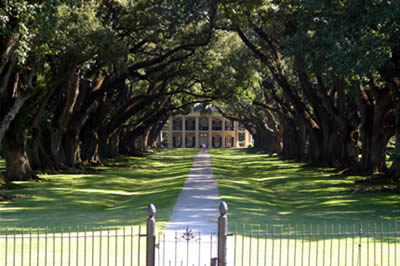 Oak Alley Plantation Oak Alley is located in Vacherie, LA, just 30 minutes, away, and can be viewed between two quarter-mile-long rows of twenty-eight live oak trees that are over 250 years old.
Laura Plantation is located In Vacherie, LA, also, just 30 minutes, away. Experience 200 years of daily life at this Creole sugarcane plantation. See the original slave quarters, and family artifacts including clothing, toiletries, business and slave records, Mardi Gras and mourning heirlooms.
Airboat rides and Swamp tours such as Airboat Tours by Arthur, is located 10 minutes, away, in Des Allemands. Zam's swamp tours and Torres' swamp tours are both located in Kraemer, LA, a small fishing village on
the banks of Bayou Bouef, within 15 minutes from A Chateau on the Bayou. You can see wild alligators, turtles, snakes, nutrias, herons, egrets, pelicans, owls, and eagles from the comfort of one of the tour boats.
Visit Greenwood Gator Farm just 25 minutes away in Gibson, LA where you will meet gators face to face. You will see a real alligator farm in the swamps of Louisiana and get to hold young gators for photo-ops, then experience the feeding of the gators.
Meet French speaking Cajuns, learn about the Cajun culture and how the traditional Cajun made a living with guides who are alligator hunters,
trappers, and fishermen.
At some times of the year you may see a man in a pirogue poling through the marshy areas looking for nests of alligator eggs. Also nearby you can see the crawfish ponds. Then after your swamp tour, stop at a Cajun Restaurant to taste the spicy delicacy straight from the crawfish ponds.
Mardi Gras, Jean Lafitte National Park, Charter fishing, Antique shops, Cajun festivals, Cajun music and dancing. Enjoy the food, join in a dance, experience the
culture, hear the Cajun language being spoken by the Cajun natives, or take home an antique or craft from the shops or festivals.
Architecture. Another aspect of the culture can be enjoyed by visiting St. Joseph Co-Cathedral, a Renaissance Romanesque design reflecting architectural design common to churches in Paris and Rome.
Nicholls State University is in nearby Thibodaux, as is John Folse Culinary School.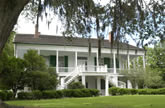 The E D White House is right on the banks of Bayou Lafourche just north of Thibodaux. It has the distinction of being the home of one of Louisiana's governors,
Governor Edward Douglass White and his son, United States Supreme Court Chief Justice, Edward Douglass White.
Golfing is only 5 minutes away. Or in under ten minutes be at one of the few operating sugarcane factory and sugarmills or Laurel Valley,
the site of the largest intact remaining turn-of-the-century sugar plantation complex in the southern United States which has been used in numerous movies and television shows.